iLA and 12 community Village Hubs around Australia are working towards reducing the impact of loneliness and social isolation amongst older people through a co-designed, community-led, national Village Hubs initiative.
Each Hub offers a variety of community connection activities to support mental, physical and social health and wellbeing. View the animation above to see the impact social isolation and loneliness are having on older Australians' physical and mental health.
The Village Hubs
In 2021, iLA was appointed as the National Grants Manager for the administration of the Village Hubs project, an initiative of the Australian Government's Seniors Connected Program, established to implement the Government's 2019 election policy: 'More Support for Older Australians'. Since its inception, iLA has established 12 Village Hubs nationally. The Hubs are located in both regional and metro areas to a diverse range of older Australians including Aboriginal, Torres Strait Islander, Culturally and Linguistically Diverse (CaLD), and LGBTIQA+.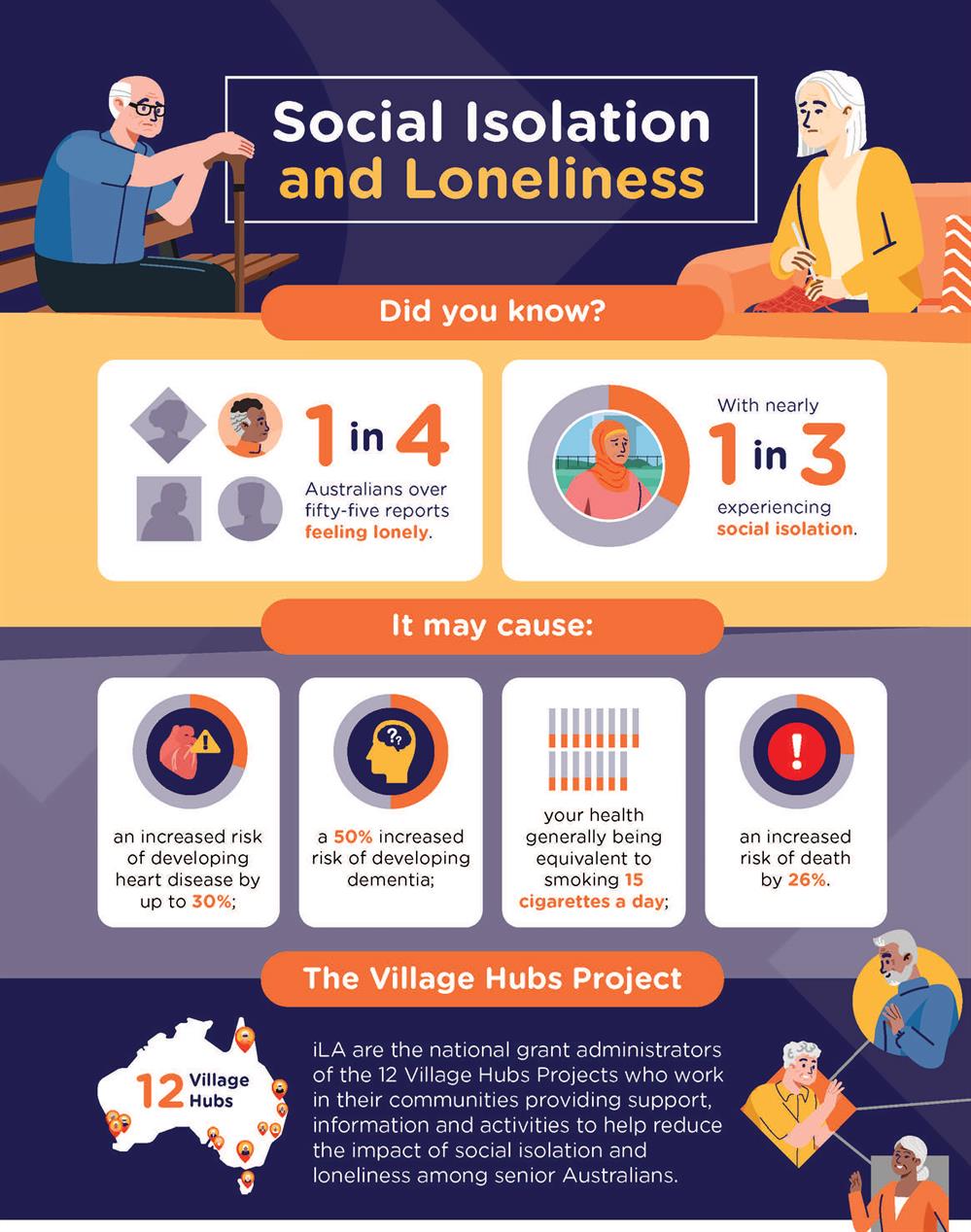 Social isolation and loneliness
Even though we live in a society where we have access to a broad range of technology devices and social platforms, social isolation and loneliness are growing health issues, impacting millions of Australians.
Older people are at greater risk with research showing that 1 in 3 older people live alone, and since the Covid pandemic half of Australians now feel lonelier.

In Australia, it has grown to become a significant issue for older people, impacting both their physical and mental health and wellbeing.

We believe that everyone has the right to feel connected and be part of the community, including you.
For more on the Village Hubs, and how you or a loved one can get involved, email us at villagehubs@ilaustralia.org.au or you can call us on (08) 6202 4747.

Information and updates will be regularly shared on our website, LinkedIn and Facebook pages.

You might also be interested in...