Join Our Team
Independent Living Assessment currently employs around 30 skilled, professional staff from the fields of occupational therapy, physiotherapy, administration, human resources, IT, marketing and finance.

We aim to attract the best people for the roles that we have on offer and we believe that diversity in all its forms is one of our greatest strengths.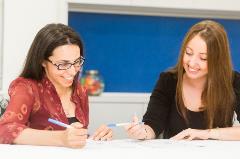 If you would like to work in an organisation which aspires to create a community in which all abilities are valued, where people have the knowledge, tools and confidence to participate, you can view our current vacancies on this page or check out our listings on Seek.
To make an expression of interest about employment at ILA, please send your details, the type of work you are interested in and your professional resume to general@ilaustralia.org.au.

Current Vacancies
Independent Living Assessment (ILA) Advisory Committee: Members Wanted
Background
ILA was established in January 2020 by Indigo Australasia Incorporated (formerly Independent Living Centre WA). Some services previously provided by the Independent Living Centre WA (ILC) are now delivered by ILA in partnership with Indigo, including:
AT Chat


Grants (Disability Equipment Grant and Equipment for Living Grant)

Regional Assessment Services

Sector Support and Development

NDIS Clinical Advisory.

ILA's services support people with disability, older people, carers, health professionals and the aged care sector. Our Vision is "a community in which all abilities are valued, where people have the knowledge, tools and confidence to participate".
About the ILA Advisory Committee
To be true to our vision we have created the ILA Advisory Committee, which will provide the ILA Board with a lived experience perspective on disability. It is anticipated that this will provide ILA management and the ILA Board with fresh insights on emerging issues for people with disability in the community ILA aims to service.

We are looking for active members of the disability community who have lived experience of disability and use assistive technology in their everyday life. Further, ILA Advisory Committee members must have well established networks across the disability community and be able to facilitate introductions and explore new business concepts.
Responsibilities
Responsibilities of the ILA Advisory Committee members will include:
Develop an understanding of ILA's business, market and sector trends.

Supply high quality objective advice from a lived-experience perspective to support the ILA Board's decision-making.

Provide management with insights and ideas which can only come with distance from the day-to-day operations.

Encourage and support the exploration of new business ideas.

Act as a resource for management and ILA Board members.

Monitor business performance and challenge management to consider options for improving the business.

Meeting frequency: once per quarter for up to two hours, via video-conference.
Term of membership: 12 months. An honorarium payment will be made for attendance/contribution.

If you are interested in being considered for this rewarding role or have any questions please email:
Kristy Harper, AT Chat Manager: kristy.harper@ilaustralia.org.au
To Apply: Please complete the Expression of Interest Form and attach it to your SEEK application or return to HR@indigosolutions.org.au
Expressions of Interest close: COB Friday 29 May 2020